As Dublin-set series The Dry starts on RTÉ One this week, stars Roísín Gallagher and Moe Dunford tell David Roy what viewers can expect from this comedy drama centred on a dysfunctional family, which also features Belfast acting royalty Ciarán Hinds.
"WHEN I first read the script, I just went 'Yes'," exclaims Belfast-born actor Roísín Gallagher of what attracted her to The Dry, the Dublin-set comedy drama series which starts on RTE One on Wednesday evening.
She plays the lead role as Siobhan 'Shiv' Sheridan, a 30-something alcoholic artist who returns home to her dysfunctional family in Dublin after years of living it up in London.
"I just felt that it was real," continues Roísín, a stage veteran whose recent on-screen roles include the movies Mandrake and Nowhere Special, Terry Loane's award-winning short film Just Johnny, Grimes & McKee's GAA-themed comedy pilot St Mungo's and hit BBC crime drama The Fall.
"I felt really connected to Shiv and what she had to say and the way she had to say it – and the use of humour in the script, I felt really like I knew what that was and I'd heard it before and in a sense was experiencing some of the things that she was experiencing.
"As an actress it's just a complete gift. And then to learn that [your part] is the lead, that was another 'oh my goodness' moment."
Shiv is the 'black sheep' of the Sheridan family who has been living a party-fuelled lifestyle in England for 10 years. Her return home to Dublin for a family funeral coincides with a resolution to make a fresh, sober start – however, some of Shiv's nearest and dearest treat her admission of alcoholism as just another attention-seeking act.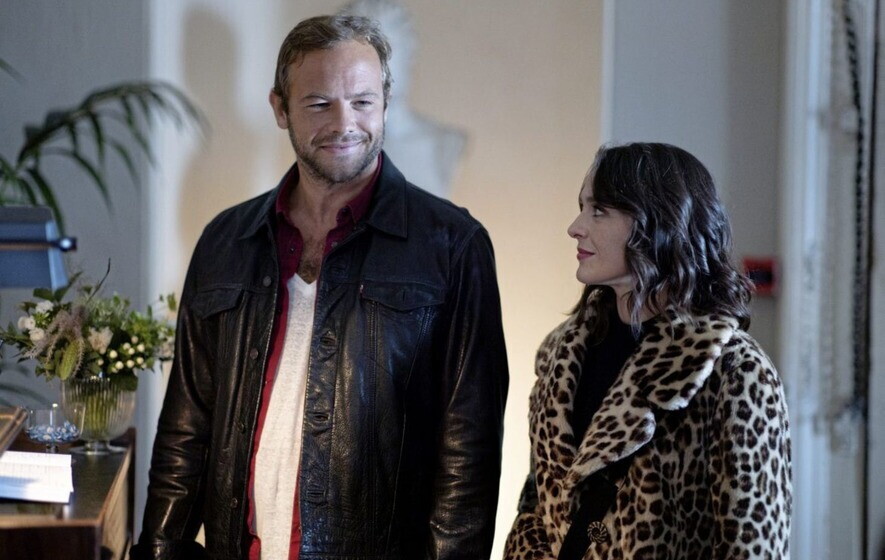 As Roísín explains, she relished the chance to finally take the lead role in The Dry's ensemble cast of Irish talent alongside Belfast actor and Oscar nominee Ciarán Hinds as Shiv's father, Tom – "He was amazing to work with and was actually surprised to discover I was from Belfast, so I must have got my Dublin accent right," she chuckles – Moe Dunford (Vikings, Nightride) as Jack, Shiv's old flame, Siobhán Cullen (Origin) as Shiv's professionally successful younger sister Caroline and Adam Richardson (Vikings: Valhalla) as her younger brother, Ant.
"It's been a long process for me," says the actor, who trained at the Royal Scottish Academy of Music and Drama.
"I've been acting professionally for 14 years and this is my first significant television job. It's taken a while for it to really sink in that I'm actually getting to do this job – I'm still not sure that it has."
Produced by BritBox in partnership with RTE, the eight-part series is written by Bafta-nominated playwright and screenwriter Nancy Harris and directed by Paddy Breathnach (Rosie, I Went Down).
Despite her relative lack of TV experience, the Belfast-born actor says she had a brilliant time filming the series in Dublin during 2021 despite the Covid-safe restrictions which were in force on the set.
"I felt so safe with Paddy, our director," Roísín tells me.
"It was a really welcoming environment, even though it was a very different process to what I'm used to [in theatre]. I came in kind of going, 'Hiya, where's my five-week rehearsal process?'
"So you have to really trust your choices and trust your instincts. You dig deep and have faith that you're there for a reason – that was a little bit of daily work I had to do before going onto the set."
Roísín is hopeful that her character's conflicted personality will resonate with Irish viewers when the comedy drama begins on RTÉ One on Wednesday.
"I fell in love with her," reveals the mother of two, who herself comes from a family of five children when asked about portraying the complex and conflicted Shiv.
"Sometimes I want to hug her and sometimes I kind of want to give her a bit of a kick up the a***. I'm hoping that the audience will feel that for her too."
In preparation for portraying a character struggling with addiction, Roísín spent three months prior to filming figuring out "the things that Shiv's probably faced before we even meet her", as she explains.
"That was a challenge that I really relished. I listened to Russell Brand's book [Recovery: Freedom From Our Addictions] and quite a lot of podcasts about addiction to kind of get an idea.
"I also talked to some people who I knew were in the 12-step programme and what it meant for them and the kind of environment that that puts a person into – who they might meet, what they might experience and how they managed to deal with their family, friends and the people closest to them who maybe knew them as another person."
Having known Shiv since childhood, Jack (Moe Dunford) is one of the more sympathetic figures from the character's past – though her fellow artist and former flame's own fondness for spontaneous, booze-fuelled fun complicates her quest to move on from self-destructive behaviours.
"They have a sort of alchemy together," explains Dunford, who previously worked with director Breathnach on the 2018 movie Rosie and found working on The Dry to be a much-needed distraction from real life during Covid.
"There's a potential for a sort of Bonnie and Clyde relationship there if they want to ignite that spark. Jack was a really fun character to play – he's a bit of a live wire at times, so it was nice to be free-ish again.
"I hadn't met Roísín before but I adored working with her. She's so grounded and brings so much truth to this character, who she was really protective of while also being a very open performer.
"I truly loved filming The Dry, it was amazing. Nancy Harris's script are so rich and Paddy is a great director, he's very intelligent and asks a lot of questions and he never reverts to stereotype.
"I couldn't wait to jump in every day because with Jack and Roísín it was one of the few jobs [during the pandemic] where you were encouraged to connect and even to hug, if it was written in the script.
"Every day I'd go home with a smile on my face."
As for the task of negotiating the tricky co-existence of comedy and serious 'issues' within the series, Dunford is quick to praise Nancy Harris's writing for putting it all on the page for the actors.
"I think 'The Dry' is a genius title," he tells me.
"How that correlates with the Irish relationship with family and with grief, with addiction and with shame – and also 'the craic' and the spontaneity we're known for, I think she's created this beautiful well-rounded work.
"In the Sheridan family 'circus', there are really no black and white areas. It's all shades of grey, which Nancy has drawn so beautifully."
"The key for drama for me is the comedy," agrees Roísín.
"When you can have hilarity and heartbreak so close together on such a tight line, that's really clever and it's really impactful. That's what gets me most excited as an audience member as well as a performer."
Indeed, the Belfast actor sees The Dry as being part of an ongoing boom for dramatic comedy work created by women and featuring female perspectives.
"I am so grateful to be getting the benefit of that in my 30s in a way that some of our more mature actresses maybe didn't when they were my age," she comments, mentioning Phoebe Waller-Bridge's Fleabag, Sharon Horgan's Catastrophe, Aisling Bea's This Way Up and Tara-Lynne O'Neill's recent all-female stage production Rough Girls as recent sources of joy and inspiration.
"I'm very inspired by these women who are writing roles not just for women but just from women's perspectives so that it's not just the wife or the girlfriend or the daughter – they're the ones who are telling the story. I think that's really important."
:: The Dry starts Wednesday March 1 at 9.35pm on RTÉ One with all eps streaming on RTÉ Player.